BetterBody Foods, U.S.A. (Peanut Butter)
Company Profile:
We are what we eat! BetterBody Foods was founded in 2007 by Mr. Stephen Richards to deliver high quality, healthy whole foods, nutrition density, and plant-based superfood lifestyles - at the best value to global consumers..
BetterBody Foods is a dedicated manufacturer, manufacturing to the highest quality and food safety standards at our +10,000 square-meter state-of-the-art production facilities in the U.S.A. Our food safety and quality standards comply with MFDS(KFDA), US FDA, BRC-EN, Codex Alimentarius international food safety and regulatory standards. BetterBody Foods manufacturing facilities and products are certified: U.S.A. GMP, SQFI, USDA Organic, Non-GMO Verified, Gluten-Free, Kosher, etc. BetterBody Foods is also a strategic private label manufacturer to key account retail chains in the U.S.A.

PBfit is BetterBody Foods #1 selling U.S.A. peanut butter powder brand in listed key account brick & mortar retail channels, as well as #1 selling on Amazon.com and Walmart.com. PBfit is 87%-90% Fat Free, 1/3 off the calories as traditional peanut butter, and pure delicious vegan plant-protein for snacking!

BetterBody Foods has extensive plant-based better-for-you and superfood ranges supplying omnichannel retail & fitness channel distribution throughout the U.S.A.., U.K., and Mexico - and is opening international markets across the Asia-Pacific, Europe & Middle East in 2019.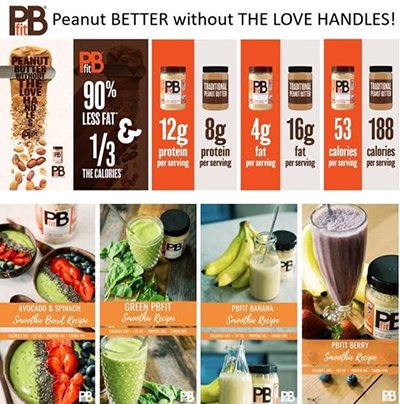 Any Preference for Korean Buyers or Business Partners
BetterBody Foods is mission Focused targeting strength-to-strength key account omnichannel retail, fitness, and eCommerce distribution in Korean with experienced importers, brand builders, and distribution companies. We are interested to make BetterBody Foods, PBfit and Oatsome brand portfolios household brand names in Korea,
Business/product portfolio:
Product Name: PBfit (www.PBfit.com)
Product Specification/profile: Healthy, delicious, 87% - 90% Fat Free, 1/3 of the Calories of traditional peanut butter, pure vegan plant protein-Great for Snacking, Blending, Baking, Protein Bars, Smoothies, and more. Add PBfit adding to your favorite snack, meal, or dessert..
Country of Origin: U.S.A.
Suggest Export Prices: Confirmed upon buyer request